You want your organization to grow, nationally or internationally? You want more efficiency? You wish to reach stability? You would like to enter new markets? Your company wants to create a subsidiary abroad? Do you wish to optimize your production output? You need better customers?
Business development is our expertise. As mentioned, this means that we can take your company to the next level. But what is your next level and what needs to be done to reach it? If your company is in its growth phase, you might consider expanding internationally. Opening a subsidiary abroad, or you start exporting your products. Developing new markets and products in your home country is also an excellent idea. While reaching the higher levels, your company might need (re)structuring of processes, for example production processes. Optimizing production output is one of the advantageous results.
Other ways to increase your ROI and profits: creating more efficiency, opening new markets, extending your product portfolio etc., can bring your company to the next level. From survival to stability, often more customers are needed. But also budgeting is of great importance. Building reserves to finance growth. And what about building (and executing) a strategy that guides you to higher levels and reaching your goals? Besides these, there are many examples of actions that SPM-Group executes to bring your company to its next level. And further.
'Your success is our success'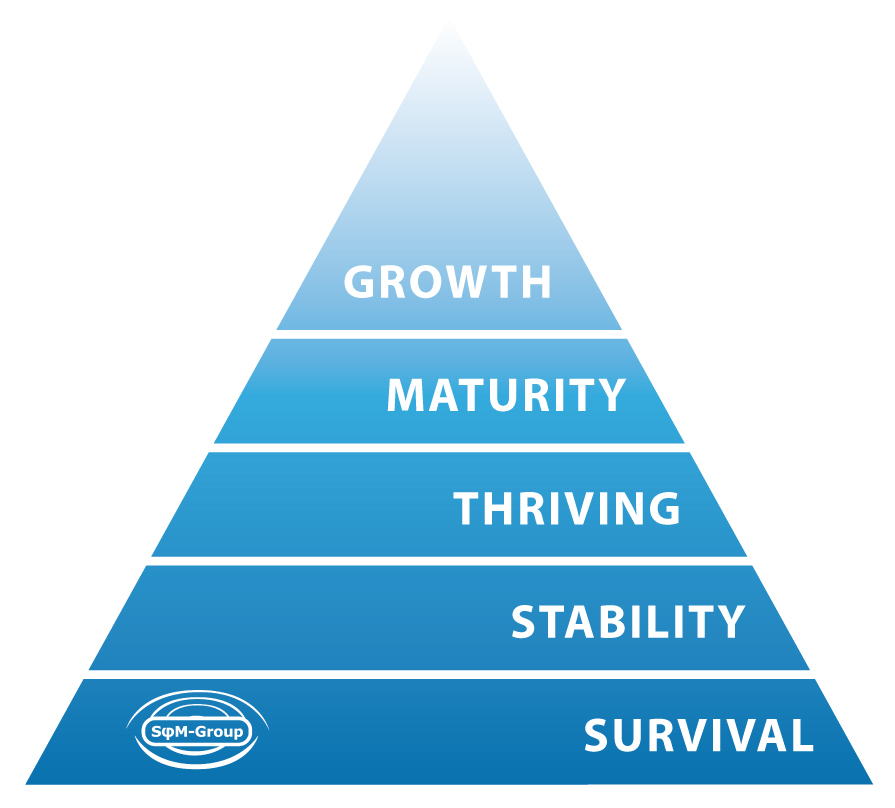 However, all large companies start small…
We also support these smaller and ambitious companies in creating growth. Don't hesitate to contact us for an informal meeting.
We work in 4 phases, each of which can be applied separately:
Q
Quick scan of your company, your company's goals, and what needs to be done on the commercial, operational, financial and managerial level to achieve those goals.
Time and effort: 10%

P
Planning of actions. A concise action plan that describes how we will get things done; which steps we will take to reach the destination.
Time and effort: 5%
O
Operations and organization of everything that needs to be done. We execute all the necessary activities to complete the journey.
Time and effort: 82,5%
W
Walk away. We don't linger longer than necessary. So, when we are finished, we walk away.
Time and effort: 2,5%
SPM-Group was founded in 1993 and is now a Dutch-Swiss company with offices in the Benelux and German speaking countries. In addition, SPM-Group has partnerships and joint ventures in other countries.
We see ourselves as experts for the development of succesful businesses. With a lot of expertise, a large (distribution) network and years of experience in commerce, operations, finance, and management we help our customers to achieve their goals.
As generalists for business development, our partners are recognized experts in their field and are also in demand as guest lecturers at universities and as members of advisory boards.
Entrepreneurs & Executives Supported
Results of the project with Gumo AS.
Why companies find it hard to get new customers, and what to do about it.
What are causes of poor results in sales? A description and what you can do better.
Address Germany
Büningsweg 10
D-46325, Borken-Weseke
Germany
Address Netherlands
P.O. Box 2154
7420 AD Deventer
Netherlands
Phone Netherlands: +31 8500 21931
Phone Germany: +49 2862 9093-0
Email: management@spm-group.com